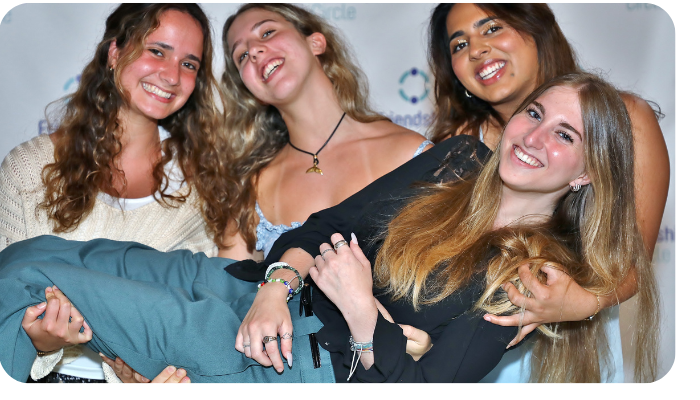 We know you're someone who wants to make a positive impact on the world, and your generation is all about making the world a better place, one step at a time, person by person.
As a volunteer with the Friendship Circle, you can be that difference-maker by befriending an incredible individual with special needs. All it takes is just a few hours of your time each week as a volunteer, and you'll be amazed at how you can change an individual's life doing the things you already love – playing games, going on field trips, drawing, listening to music, and much more!
We welcome volunteers from 7th grade and up, so if you're ready to bring a smile to an individual's face with special needs and create some fantastic memories together, join us at the Friendship Circle! Let's make this world a brighter and happier place, together! 😊🌟


- Weekday programs - Swimming, Art, Band, Life Skills, Equestrian, Zumba, Drama & Social Circle
- Sunday Programs - Childen's Circle, Tween Scene, Teen Scene
- No School Fun Days
- Friends @ Home
- Winter/Summer Camps

Still have questions? 
Contact our office at 305.234.5654 ext 11 or email Heidi at [email protected] for more information.
By joining the Friendship Circle team as a volunteer, you'll join thousands of teens from around the world in a global movement to make sure that all individuals, regardless of their abilities, have someone they can call their friend.